T-RM5000 Insulation Resistance Tester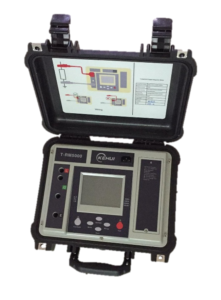 The T-RM 5000 Insulation Resistance Tester performs local insulation tests to confirm the with-stand level and determine the absorption ratio and polarization index of capacitive samples. Typical applications include cables, transformers, motors / generators, circuit breakers and bushings. The -unit has a compact structure, easy operation, built-in rechargeable battery, and can also be equipped with ordinary batteries. T-RM 5000 type resistance measurement can reach up to 50GΩ.
The instrument has a clear liquid crystal display, showing the insulation resistance reading as a digital display function. The conventional voltage setting is available in 500V, 1000V, 2500V, 5000V steps and can be fine-tuned in with adjustment steps of 50V.
T-RM5000 Insulation Resistance Tester – 5kV
Features:
Performs IR, DAR & PI tests
Measures up to 50GΩ
Operates from battery or a.c. mains supply
Rapid charge Li-ion battery and will work from conventional batteries
Unique design with digital display
Environmental protection rating of IP65 with the case closed, eliminates moisture and dust ingress
Technical data
Test Voltage
DC: 500V, 1000V, 2500V, 5000V

Increased by 50V step

Voltage Precision
Error: ±2% ±1V(0 – 30℃)
Measurement
Insulation resistance, Dielectric absorption ratio, polarisation index displays the change process of the above and also capacitance data.
Insulation Resistance Range
500kΩ -500GΩ
Insulation Resistance Precision
±5%

±20%

±20%

1MΩ – 50GΩ @ 5000V

1MΩ – 5GΩ @ 500V

500kΩ – 1MΩ @ 5000V

50GΩ – 500GΩ @ 5000V

500kΩ – 1MΩ @ 500V

5GΩ – 50GΩ @ 500V

Max Short-circuit Current
6mA
Capacitance Range
0.1µF – 10µF
Capacitance Precision
±5% ±0.03µF(0 – 30℃)
Capacitor Charging Rate
<1.5 sec/µF, up to 5000V
Capacitor Discharging Rate
<1sec/µF, less than 50V after discharging
Power Input
AC 220V 50/60Hz for charging
Battery Life
operating time up to 16 hours on 1GΩ resistance; N. 8 two NiMH rechargeable batteries
Display
Digital Large LCD display with backlight
Dimensions
50 x 30 x 25cm
Weight
7.5kg
Scope of Supply:  T-RM 5000 kit, Power cord, HV lead, Earthing lead, Ground lead, rechargeable batteries and manual.