T-602 Audio Frequency Transmitter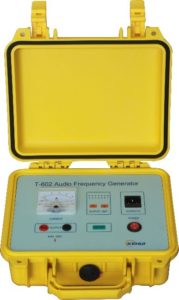 The audio frequency transmitter T-602 is especially designed for accurate locating of cable faults and joints using the twist method. T-602 generates a 1kHz audio frequency which is used to precisely pinpoint the position of low resistance faults. The unit can also determine the cable path by feeding a signal into the electrical conductor, which can be detected using the T-505 Pinpointer,
Principle
This method depends on the fact that the cores in underground cables are laid twisted. The T-602 is connected to the two faulted cores and its audio frequency signal passes down one core of the cable and returns via the fault path and the other core. The current produces a magnetic field with maxima and minima every half twist of the cores. As the T-505 search coil is moved along the route of the cable, this pattern can be detected, until the fault point is reached, when the signal becomes much smaller. Hence, the fault position is identified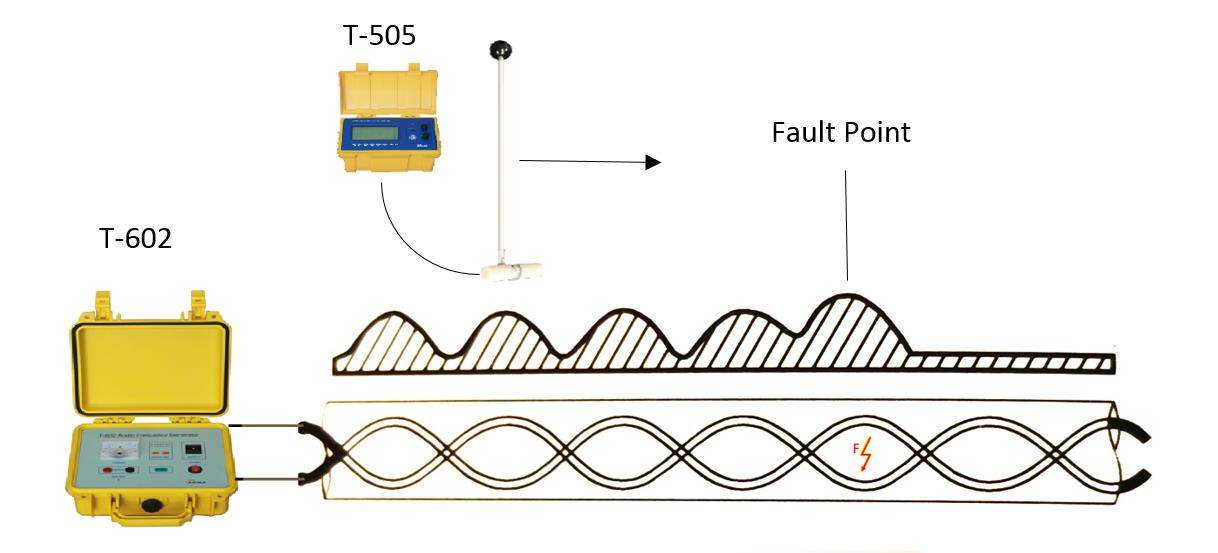 Features
Powerful audio frequency transmitter up to 20W.
Frequency 1 kHz, quartz stabilised.
Potential-free output.
7 levels of output voltage
Indication of output current
Two working modes; continuous and Intermittent for selection under different field condition.
Automatic protection of overload and with high reliability.
Specifications
Output power: 20W
output current: 2.8A±20%
Frequency: 1kHz Sine wave
Output voltage: In 7 steps: 4-7V/15-5V/ 30-40V/ 60-70V/ 90-100V/ 150-170V/ 200-230V
Operating modes: Continuous and Intermittent
Display: Output current
Output: Polarity terminals on panel
Power supply: AC 230V±10%, 50Hz±10%
Internal instrument protection: Over current limitation
Operating temperature: – 20 to + 40 ° C
Dimensions (w x h x d): 275 mm x255mm x 130mm
Weight: 2kg