FTR-100 Fault Transient Recording System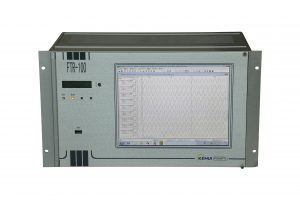 The FTR-100 power system fault transient recorder is applicable to conventional and digital substations. In the former, the recorder performs transient, steady state and continuous recording of the AC/DC analogue quantities and digital status from the primary equipment. The unit will store 7 days of data under normal conditions, but a wide variety of trigger conditions will allow it to store up to 5.5s of data before and after the trigger event.
The unit also supports the IEC61850 standard, both on the process bus and station bus level. In such digital substations, it monitors, captures and records Sample Values (SV) and GOOSE messages on the process bus, plus MMS messages on the station bus. It checks the integrity of the message for abnormality and performs error-reporting. Through SV and GOOSE messages, it provides monitoring of the analogue quantity and circuit breaker status information within the substation.
Technical Data